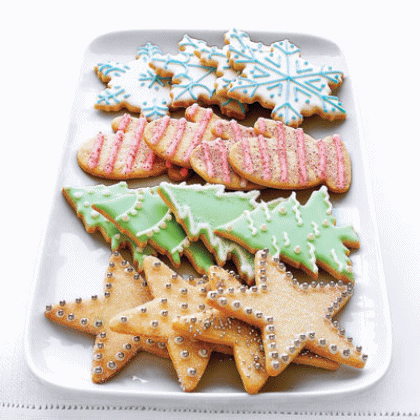 Ingredients

1 1/2 cup(s) butter, softened
1 cup(s) sugar
1 large egg
2 teaspoon(s) vanilla extract
4 1/2 cup(s) all-purpose flour
1/2 teaspoon(s) salt

Directions

In a bowl, with mixer on medium,
beat butter and sugar until fluffy;
beat in egg and vanilla extract.
On low, beat in flour and salt.
Divide dough in half; shape each
half into a 1/2-inch-thick disk.

Wrap in plastic wrap; chill until firm.
Heat oven to 350 degrees F.
On floured surface, roll dough 1/8-inch
thick; cut into shapes. Transfer to
ungreased baking sheet(s). Bake

until lightly golden around the edges,
10 minutes. Let cool 5 minutes on sheets;
transfer to racks to cool. Decorate
as desired; store in an airtight
container up to 2 weeks, or
freeze, undecorated, up to 3 months.