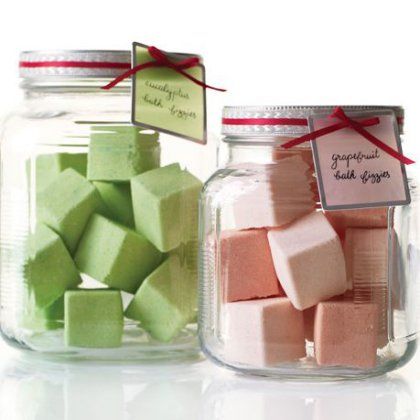 Materials

1/2 cup citric acid
1 cup baking soda
3/4 cup cornstarch
1/4 cup organic cane sugar
10 to 15 drops essential oil(s)
2-ounce travel-size spray bottle
plastic pipette
silicone ice-cube tray
storage jars
About 6 drops food coloring

Directions

Stir together citric acid, baking soda,
and cornstarch in a glass measuring cup.
Pass mixture through a fine sieve or a
flour sifter into a mixing bowl. Stir in sugar.

Fill spray bottle with water, and add
food coloring. Spritz mixture lightly
until you can pack mixture with your hands.
Using pipette, add oil, 1 drop at a time,
until strength of scent is to your liking.
Using a metal spoon or your hands,
mix ingredients until color is even throughout.

Spoon into ice-cube tray, pressing
firmly. Let dry at room
temperature overnight. Pop
out of tray gently. Transfer to jars.