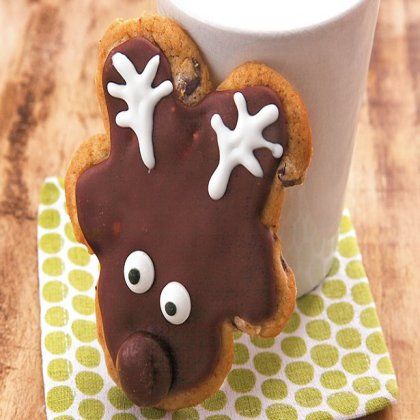 Ingredients

1 pouch chip cookie mix
1 tablespoon Gold Medal all-purpose flour
1/2 cup butter softened
1 egg
2 pouches Decorating Cookie Icing chocolate icing
32 candy eyes
16 small round chocolate-covered creamy mints
1 pouch (7 oz) Decorating Cookie Icing white icing

Directions

In large bowl, beat cookie mix, flour
butter and egg with electric mixer on
low speed just until blended. Shape
into ball. Flatten dough to 1/2-inch
thickness; wrap in plastic wrap.
Refrigerate 3 hours or until very firm.

Heat oven to 350°F. Unwrap dough
on well-floured surface, roll dough
to 1/4-inch thickness. Cut with
floured 3 1/2-inch gingerbread boy
cookie cutter. On ungreased cookie
sheets, place cutouts 2 inches apart.

Refrigerate on cookie sheets 10 minutes.
Bake 9 to 10 minutes or until edges
are lightly golden brown. Remove
from cookie sheets to cooling racks.
Cool completely, about 30 minutes.
Turn each cookie upside down to

look like reindeer face. Outline
cookie with chocolate icing; fill
in and spread icing with toothpick.
Attach candy eyes and mint for nose.
Decorate with white icing to look
like antlers. Let stand until set.