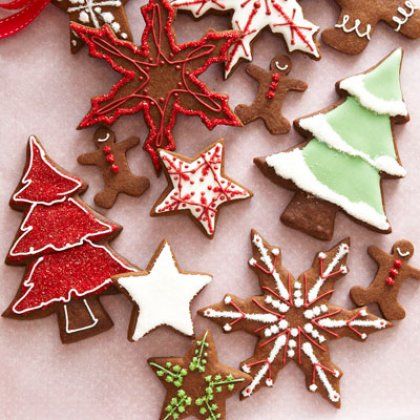 Ingredients

3 1/4 cup(s) all-purpose flour
2 teaspoon(s) ground ginger
1 teaspoon(s) baking soda
1 teaspoon(s) ground cinnamon
1/2 teaspoon(s) ground nutmeg
1/4 teaspoon(s) ground cloves
1/4 teaspoon(s) salt
3/4 cup(s) butter, softened
3/4 cup(s) sugar
1/2 cup(s) unsulfured molasses
1 large egg
Ornamental Frosting
Sanding sugar, optional

Directions

In medium bowl, whisk flour, ginger
baking soda, cinnamon, nutmeg
cloves, and salt. In large bowl, with
mixer on medium speed, beat butter
and sugar until creamy. Beat in
molasses and egg until well blended
scraping side of bowl occasionally.
Beat in flour mixture until

combined. Divide dough into 3
equal pieces. Place each portion
between 2 large sheets of waxed
paper. With rolling pin, roll
dough to 1/3-inch thickness.
Refrigerate, on cookie sheet
until firm and cold, at least 2 hours.
Preheat oven to 350 degrees F.

Working with one portion of dough
at a time, remove waxed paper
and place dough on lightly
floured surface. With floured
3- to 4-inch cookie cutters, cut
out as many cookies as possible.
Place cookies 1 inch apart
on ungreased cookie sheets. Bake

10 to 12 minutes or until set and
just slightly darker at the edges.
Cool on cookie sheet on wire rack
1 minute. With spatula, transfer
cookies to wire racks to cool
completely. Trimmings can be
gathered, rolled, and chilled for use.
When cookies are cool, prepare

Ornamental Frosting, if you like
use to decorate cookies as desired.
Set cookies aside to allow
frosting to dry completely
about 1 hour. Store cookies in
tightly covered container at room
temperature up to 2 weeks
or in freezer up to 3 months.