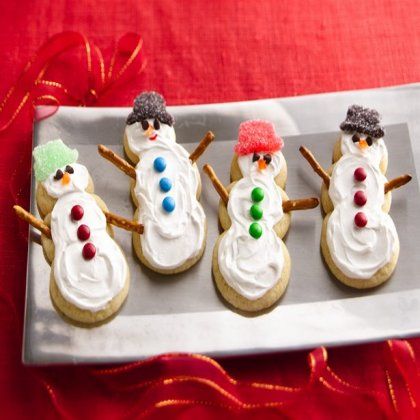 Ingredients

1 pouch sugar cookie mix
2 tablespoons Gold Medal all-purpose flour
1/3 cup butter, softened
1 egg
21 pretzel sticks, broken in half
1 container Whipped fluffy white frosting
Assorted candies

Directions

Heat oven to 375°F. In medium
bowl, stir cookie mix, flour
butter and egg until soft dough forms.
Shape dough into 21 (1 1/4-inch)
balls, 21 (1-inch) balls and 21
(3/4-inch) balls. For each snowman

place 3 balls in decreasing sizes
with edges just touching on ungreased
cookie sheet; flatten balls
slightly. Place snowmen about
3 inches apart. Bake 7 to 9 minutes
or until edges are light golden brown.

Remove from oven; immediately insert
pretzel sticks into sides of middle
balls for arms. Cool 5 minutes
remove from cookie sheet to cooling
rack. Cool completely, about 15 minutes.
Frost cookies and decorate with candies.